Sound Blocking EAR MUFFS, HEADSETS & SOUNDPROOFING HEARING PROTECTION
While noise keeping you awake may seem to be a simple problem, the solutions are not simple!
Sleeping with headsets? You bet! Want to block traffic noise or reduce your partners snoring?  
Sound Blocking Totally Guaranteed!
Need help getting to sleep, or sleeping?
Some of this may be hard to believe:
Why don't earplugs alone work well?  Earplugs don't cover the mastoid bone behind your ear as well as headsets do.  That's also why "Lightweight" or cheap smaller headsets don't work well.  We've been asked: "What if I wear both"?  The answer is that while there will be some improvement over headsets alone, it will not be very great, but really well worth it.  We give you a free set of earplugs with each headset and you can get more from your local drugstore, if need be.
Most of these professional units we sell have a special liquid ear seal for maximum noise reduction and are made with premium components for long life.
Fitting Instructions:
Pull the cups outward and position so that the cushions fully enclose the ears and seal tightly against the head.
Adjust the height of each cup equally on both sides while holding headband on crown of head creating a snug and comfortable fit.
Proper Fit:  With ear muffs over both ears while in a noisy environment, place the palms of your hands on both cups and push cushions towards head.  If there is a perceptible difference in the noise level, ear muffs are probably not fitted properly.
The headband will take a set.  If proper fit is not obtained, repeat fitting instructions.  ie:  if they are too tight, spread them out – too loose, compress the headband.
Notice:  Noise reduction is adversely affected by anything that impairs the seal of the ear muff cushions,  like hair, glasses, earpiece cords, etc. Yes, soundblocking headsets (ear muffs),  really work and here's what we've  learned about sleeping with them and some suggestions.
Use the type that's adjustable, usually the headband that goes around the back of the neck or under the chin is best for sleeping. Then, find a quiet place to put on the headset and stay there a few minutes first to accustom your hearing level to the quiet, otherwise your body may "turn up your ear volume" trying to make up for the unaccustomed quietness.   The bathroom works good for this. Then put on the headset.
Two pillows may be needed to block your head/headset properly when lying in bed. Very soft "malleable" pillows, not rubberery are best. If you can find a "horseshoe" pillow, it may help to position the headset better.
Wearing headsets throughout the night may not work for some people.  Use them to get to get to sleep and pull them off later if they become uncomfortable.  Keep them handy (always put them in the same place to avoid searching in your bed for them!) if you need to put them back on.
TIPS:   If the headset headband is too tight, loosen by spreading out by hand.  If too loose, tighten by clamping head banding together. Make sure your hair doesn't interfere with the earmuff seal.  If you wish to wear an earpiece to listen to the radio, etc, use a flat cord not a round one so as to not interfere with the seal. Wearing these at night takes some "getting used to".  Give them the old college try.  If you can make them work (as hundreds here have done), you can save yourself untold aggravation, expense, etc!
We now have reusable earplugs on cords to help in not losing them at night Inquire!
Totally Guaranteed! Because not everyone may be able to use them, we waive our normal 25% restocking charge if you wish return them.  (Shipping not refundable). You're not stuck!
But Wait!  There's more: SPECIAL OFFER-  FREE EARPLUGS with EACH HEADSET!
Regular industrial hearing protection ear muffs don't attenuate the voice range by much- because speech communication is important for safety in industrial conditions.  (Like- "Hey, BOB, WATCH OUT!)  For sleep and ordinary noise reduction, this is a real disadvantage.  Since we can't modify them, we provide you with special noise reduction pads that fit inside the ear cups to increase the attenuation and widen the speech blocking range and a set of earplugs.
If you decide to return the earmuffs, the sound blocking earplugs are yours to keep.
See all our headset/earmuffs with pictures.    Pix/color may change due to availability and product upgrades.
Comfort Rating: Almost the BEST! Low Profile and foldable for travel. Ear cups are specially designed to fit each ear. The NRR in DB is 25, with specially enhanced pads and earplugs to perform even better. Available in Gray with black head band.only Lightweight- only 8 OZ.   Only……….$24.95 With FREE EARPLUGS! In stock.

 Comfort Rating: Almost the BEST!The NRR in dB is 25, with specially enhanced pads to perform even better. ……….$29.95 With FREE EARPLUGS!  In stock.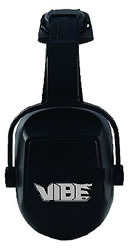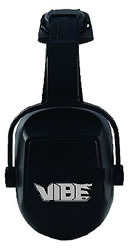 Comfort Rating: Very Good.  Live next to a train or truck station?  Special Low Frequency Ear Muffs block very loud, low frequency rumble sound such as emitted by engines, compressors, buses and heavy trucks. We took High Noise Reduction units and added Low Frequency noise enhancement.  Recommended for professionals exposed to such loud sounds that hearing damage could occur without serious protection. Liquid Filled – Black only.  Just $49.95   With FREE EARPLUGS! NRR: 29  In stock.
Comfort Rating: Pretty Comfortable- THE Ultimate Soundblocker! Civvy Version!   Built to Military Specifications, The same specs as those made to withstand loud duty on aircraft carrier flight decks – Civilian Version of Navy Mil Spec, Thick foam headband- low tension,  Individually adjustable ear cups with a NRR – 29 Average – Over Head -Wide
frequency reduction up to 37.4  Highest average sound blocking.
Just $59.95 With FREE EARPLUGS!  In stock.
Don't know which to order?  Order them all and test for the best one for you.  Return others in saleable condition – no restocking charge, (just pay for the shipping back and forth).  Keep the earplugs, just for trying!
Need a quiet room?  See our safe room description and our do-it-yourself  sound booth.
Snoring presents particular problems
Snoring presents particular problems because the sound is usually low frequency and quite loud and nearby. The low frequency headset would work best as well as some offsetting noise nearby, such as a fan or hiss like from between the stations on your FM radio.
Have a Noisy Place where Employees can't Hear the page system well?  All you would need is sound blocking headsets that play your music until your page comes on.  Call us to find out how!  760-752-3030