Archive for the 'How To Do It' Category
How to select soundproofing suppliers!
When we put up this website in 1998, we were the only company specializing in sound control materials, even though there were several companies selling professional sound studio acoustical materials.
These established companies, observing our success over the years, began adding sound control sections to their websites to take advantage of the growing awareness of noise pollution by homeowners and the general public.  They began to actually talk sound control with customers, breaking their long standing rules of only dealing with noise control professionals.  Unfortunately, much of the info they give is couched in specialized, engineering terms and may not be very practical in the field. Do you really care about "Sabins", "NRC" and "IIC" terms?
Recently, there has been a explosion of companies wishing to "cash in" on the soundproofing phenomenon and have studied ours and other websites and now try to "talk the talk" by selling the same or similar materials.  Some have even copied the information from our website virtually word-for-word!  (Even with our spelling errors!).
Because they have very little in the way of costly overhead, (working from apartments, garages or cheap offices), they try to sell product for a few pennies cheaper than established reliable companies.  This article is to help the user try to differentiate between their hype and the real tested resources of practical sound control advisors and reliable suppliers.
Points to consider before buying sound control materials from ANYONE! (This applies to dealing with contractors, too!)
Are they established and reliable?  (Or just out for a quick profit?) You can tell if they don't answer their "Office"  phone and ask you to leave a call-back number.
Do they just simply agree with your plan or idea and not offer constructive alternatives or criticism to make sure you get the proper materials and install it correctly?
Will they just sell you whatever kind of material you want without any kind of comment as to whether it will do the job?
Are their "Technical Experts" commission salesmen?
Do they hype their material, offering glowing testimonials?
Do they offer to guarantee results, but have onerous return policies? (Tell you anything to make the sale).
Do they actually STOCK material or are they just "Drop Shippers"?
Are they a VERIFIED member of the Better Business Bureau?  (BBS symbols must be clickable).
Do they have a outstanding privacy policy?  (Some don't even have one or a "canned" one forced on them by a web hosting service! Or don't even know what it means!) Is it hidden? Is the type big enough to read?  Does it actually offer privacy?
Do they have phony "Trust" and "Award" emblems on their site that do not work for verification?  (Not clickable, or send you around their own site).
Do they wildly extol their own wonderful virtues of integrity and conscientiousness to allay your fears? (To make a sale, they'll even tell you they are devout Christians and call you "Brother"!)
Do they give themselves impressive meaningless titles, such as "Soundproofing Director" or "Sound Conditioning Expert"?
Do they make ridiculous claims as to their qualifications?  (One of our former employees was asked some questions about sound control by a newspaper, who then mentioned our company and his name in a general article.  He quit and started his own business around the corner from us in competition with us, calling himself the "Doctor of Soundproofing, ADVISOR to the New York Times"! (And several other newspapers who carried the article about us).
Do they knock their competitors with sincere sounding criticism of them or their products "for the protection of the public"?
Do they offer products with characteristics that cannot meet specifications?  (For instance: "Rubber Expanded Foam"- FAA Approved for Aircraft). Or "Closed Cell Foam" (Just cheap ineffective neoprene).
Do they offer cheap products that sound and seem the same as other sound control products but are not?  (Neoprene: "Same as mass loaded vinyl").
Do they offer products with low quoted prices on the site, but wildly differ when the order  is placed?
Do they hit you with exorbitant shipping and handling charges?
Do they offer low prices and then hit you with a "Order Processing Fee"?  (This fee is proportional to how bad you want it!).
Do they try to add a charge for using a credit card instead of a money order?  Or give you a discount for cash. because they can't qualify for a credit card merchant account and thusly a shopping cart?  (Or use some other persons merchants account).
Will they  give you specifications of  their products and the Materials Safety Data sheets (MSDS)?
Will they sell you flammable packing material or mattress foam as acoustic products?
Do they give you copies of their own approvals and lab burn tests? Or "Computer Generated"?  (Or fake copies of ours?)
Do they meet shipping deadlines or do you have to keep calling?
Will they cheerfully accept back your unused product for credit?
Will you have to worry that you'll not even receive your order, nor your money back?  (Or the correct materials for the job).
If you have problems will they help you or your installer or just blow you off?
Will you have to contact us after buying from them to find out where you went wrong?
We offer free, informed, practical and impartial advice.  While some people have taken our time, information and detailed instructions and shopped elsewhere for materials, they are in the minority.  (Probably it was these competitors calling us for help!  We are the ones they turn to!)
If you like what we do and the way we do it, please patronize us and become one of our many loyal customers!  (You won't be sorry!)
Some would say you'd have to be nuts to deal with anyone but us!
Dealing with someone else?  Make sure you haven't been "Doctored"!  Call us for a second opinion!
Careful attention to certain details (not mentioned on the site), could mean the difference between success and failure of your sound reduction project!  (You'll get these vital details when you become our customer!)
If you find a lower price somewhere else- Beware! There's a reason!
Tip! Check their Delivered Price!
Since we ship in large volume, we get a far better shipping rate from our freight companies than others and pass that along to you!
We can ship from our bonded warehouses near you, saving you big money!
Beware of this offer: "XXXX stocks the largest selection of products in strategic locations across the country. You benefit from lower shipping costs knowing we will source your order from the best location possible".
(Means they drop ship, pay with a credit card to the supplier and stock nothing).
Sound Blocking EAR MUFFS, HEADSETS & SOUNDPROOFING HEARING PROTECTION
While noise keeping you awake may seem to be a simple problem, the solutions are not simple!
Sleeping with headsets? You bet! Want to block traffic noise or reduce your partners snoring?  
Sound Blocking Totally Guaranteed!
Need help getting to sleep, or sleeping?
Some of this may be hard to believe:
Why don't earplugs alone work well?  Earplugs don't cover the mastoid bone behind your ear as well as headsets do.  That's also why "Lightweight" or cheap smaller headsets don't work well.  We've been asked: "What if I wear both"?  The answer is that while there will be some improvement over headsets alone, it will not be very great, but really well worth it.  We give you a free set of earplugs with each headset and you can get more from your local drugstore, if need be.
Most of these professional units we sell have a special liquid ear seal for maximum noise reduction and are made with premium components for long life.
Fitting Instructions:
Pull the cups outward and position so that the cushions fully enclose the ears and seal tightly against the head.
Adjust the height of each cup equally on both sides while holding headband on crown of head creating a snug and comfortable fit.
Proper Fit:  With ear muffs over both ears while in a noisy environment, place the palms of your hands on both cups and push cushions towards head.  If there is a perceptible difference in the noise level, ear muffs are probably not fitted properly.
The headband will take a set.  If proper fit is not obtained, repeat fitting instructions.  ie:  if they are too tight, spread them out – too loose, compress the headband.
Notice:  Noise reduction is adversely affected by anything that impairs the seal of the ear muff cushions,  like hair, glasses, earpiece cords, etc. Yes, soundblocking headsets (ear muffs),  really work and here's what we've  learned about sleeping with them and some suggestions.
Use the type that's adjustable, usually the headband that goes around the back of the neck or under the chin is best for sleeping. Then, find a quiet place to put on the headset and stay there a few minutes first to accustom your hearing level to the quiet, otherwise your body may "turn up your ear volume" trying to make up for the unaccustomed quietness.   The bathroom works good for this. Then put on the headset.
Two pillows may be needed to block your head/headset properly when lying in bed. Very soft "malleable" pillows, not rubberery are best. If you can find a "horseshoe" pillow, it may help to position the headset better.
Wearing headsets throughout the night may not work for some people.  Use them to get to get to sleep and pull them off later if they become uncomfortable.  Keep them handy (always put them in the same place to avoid searching in your bed for them!) if you need to put them back on.
TIPS:   If the headset headband is too tight, loosen by spreading out by hand.  If too loose, tighten by clamping head banding together. Make sure your hair doesn't interfere with the earmuff seal.  If you wish to wear an earpiece to listen to the radio, etc, use a flat cord not a round one so as to not interfere with the seal. Wearing these at night takes some "getting used to".  Give them the old college try.  If you can make them work (as hundreds here have done), you can save yourself untold aggravation, expense, etc!
We now have reusable earplugs on cords to help in not losing them at night Inquire!
Totally Guaranteed! Because not everyone may be able to use them, we waive our normal 25% restocking charge if you wish return them.  (Shipping not refundable). You're not stuck!
But Wait!  There's more: SPECIAL OFFER-  FREE EARPLUGS with EACH HEADSET!
Regular industrial hearing protection ear muffs don't attenuate the voice range by much- because speech communication is important for safety in industrial conditions.  (Like- "Hey, BOB, WATCH OUT!)  For sleep and ordinary noise reduction, this is a real disadvantage.  Since we can't modify them, we provide you with special noise reduction pads that fit inside the ear cups to increase the attenuation and widen the speech blocking range and a set of earplugs.
If you decide to return the earmuffs, the sound blocking earplugs are yours to keep.
See all our headset/earmuffs with pictures.    Pix/color may change due to availability and product upgrades.
Comfort Rating: Almost the BEST! Low Profile and foldable for travel. Ear cups are specially designed to fit each ear. The NRR in DB is 25, with specially enhanced pads and earplugs to perform even better. Available in Gray with black head band.only Lightweight- only 8 OZ.   Only……….$24.95 With FREE EARPLUGS! In stock.

 Comfort Rating: Almost the BEST!The NRR in dB is 25, with specially enhanced pads to perform even better. ……….$29.95 With FREE EARPLUGS!  In stock.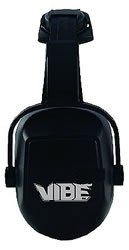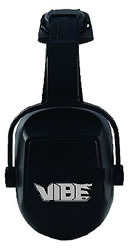 Comfort Rating: Very Good.  Live next to a train or truck station?  Special Low Frequency Ear Muffs block very loud, low frequency rumble sound such as emitted by engines, compressors, buses and heavy trucks. We took High Noise Reduction units and added Low Frequency noise enhancement.  Recommended for professionals exposed to such loud sounds that hearing damage could occur without serious protection. Liquid Filled – Black only.  Just $49.95   With FREE EARPLUGS! NRR: 29  In stock.
Comfort Rating: Pretty Comfortable- THE Ultimate Soundblocker! Civvy Version!   Built to Military Specifications, The same specs as those made to withstand loud duty on aircraft carrier flight decks – Civilian Version of Navy Mil Spec, Thick foam headband- low tension,  Individually adjustable ear cups with a NRR – 29 Average – Over Head -Wide
frequency reduction up to 37.4  Highest average sound blocking.
Just $59.95 With FREE EARPLUGS!  In stock.
Don't know which to order?  Order them all and test for the best one for you.  Return others in saleable condition – no restocking charge, (just pay for the shipping back and forth).  Keep the earplugs, just for trying!
Need a quiet room?  See our safe room description and our do-it-yourself  sound booth.
Snoring presents particular problems
Snoring presents particular problems because the sound is usually low frequency and quite loud and nearby. The low frequency headset would work best as well as some offsetting noise nearby, such as a fan or hiss like from between the stations on your FM radio.
Have a Noisy Place where Employees can't Hear the page system well?  All you would need is sound blocking headsets that play your music until your page comes on.  Call us to find out how!  760-752-3030
"Backer Square" is cheaper and less labor-intensive than multiple thicknesses of acoustical caulk for filling large gaps.
SAVE TIME ON PRODUCTION JOBS BY QUICKLY SIZING THE SOUND CONTROL INSULATION FOR INSTALLATION!
Cuts all types of insulation!
Tips for builders.
Acoustical caulk, if installed as a full load into the open seam or joint will maintain the STC of the wallboard, (sheetrock, drywall, etc), but this entails a lot of caulk.
You need to caulk the full depth of the seam, not just lay a bead in it.  "Backer Square" helps here; it's a closed cell foam (far superior to open cell foam 'backer rod' commonly used by contractors to reduce the amount of caulk needed in seams).
The technique is to apply the Backer Square (1/2″X1/2″ or 3/4″X1″) where the wallboard is to be installed with a bit of a recess to as to leave some room for the caulk.  It has an adhesive backing, so is easy to install and won't move as the caulk is used over it to fill the gap.  This saves caulk and saves time caulking.  On a big job, it gets tiresome squeezing the handle of the caulk gun!
Quietud: €œ Una practica guia para el control del ruido €. Anteriormente impresa por la EPA. Como €œQuie€¦
S U P E R     I N S O N O R I Z A C I O N
su primer recurso de insonorizacion en la internet
Ahora disponible, para usted , una reimpresion de el popular manual de insonorizacion, este manual esta impreso con las reglas establecidas por la nacional EPA. Publicado por tiempo, nosotros ponemos a su disposicion una reimpresion, de este manual solamente por el bajo costo de impresion y pago de correo.
"Quietud: Una practica guia para el control del ruido€  Anteriormente impreso por la Nacional EPA, como "Quietud en el hogar". Con 120 Paginas, 8.5″ X 11″ completamente ilustradas, incluye detalles tecnicos exactos, simples y sencillos sin mucha tecnica.
INDICE:  Basicos principales para la reduccion del ruido.
Capitulo 1:
El control del ruido desde su origen.
Conceptos de origen, trayectoria y receptor.
Requerimientos para el funcionamiento de la quietud
El control del ruido destro de la senda de transmision.
Factores que afectan el recorrido del sonido.
€œQuietud€ dentro de la trayectoria.
Protegiendo el receptor.
Capitulo 2
Control del ruido en el hogar.
Transmision y aerotransportacion del ruido en la estructura.
El bloqueo del ruido y sus efectos.
Franqueando la transmision del ruido.
Soluciones generales para el control del ruido en el hogar.
Absorcion del sonido VS la insolacion del sonido.
El ruido de la cocina.
Cuartos de juego y recreacion.
Corredores, pasillos y escaleras.
Mejorar la privacidad de su alcoba, y el area del piso del bano.
Perfeccionando la aislacion de sonido de los muros.
Perfeccionando la aislacion de sonido del piso y construccion del techo.
Control de el piso que rechina.
Control de las escaleras que rechinan.
Control del ruido de los sistemas de calefaccion, ventilacion y aire acondicionado.
Control del ruido del conducto.
Ruido y vapor del calentador.
El ruido del rodapie del sistema de calefaccion.
Control del ruido de las instalaciones sanitarias.
Control del ruido del chorro del canal de deshague.
Capitulo 3
Como se coloca la aislacion de ruido en su hogar en contraste con el aire libre.
Capitulo 4
Seleccionando la tranquilidad de su casa o apartamento.
Capitulo 5
Una guia para la compostura de averias.
Analizando el problema.
Como buscar las fugas de ruido.
Usando sus oidos €" y un contador de ruido barato.
Usando en su casa los aparatos e implementos que mencionamos.
Probables causas del ruido, quejas, problemas y soluciones.
Tecnicas generales para disminuir el ruido.
Indice especifico que le muestra problemas y remedios del ruido.
Este manual viene escrito en capitulos, por practico y guia, ha servido a muchos para resolver problemas del control del ruido/sonido. Incluye tecnicas especificas para usar en la absorcion del sonido, los materiales a usar y sus STC raitings.Contiene imagenes sobre la reflexion, la reverberacion y fracciones en aplicaciones para motores, generadores. En la construccion de casas, oficinas e industrias. Ruido de aviones, aves, perros ladrando y muchas mas ilustraciones.
2.  Nosotros le enviaremos unos pequenos ejemplos a cuenta nuestra de los materiales acusticos , asi como una guia para usar los canales de metal para la maxima reduccion de sonido al costo mas bajo!
Ordene con su tarjeta de credito por el servidor de seguridad!
Obtenga una copia de este libro por correo……..Por el precio de $15.00 dolares con porte pagado (Canada y Mexico agregar $3.75)
(Usted selecciona este medio de envio o tambien se lo podemos enviar a su cargo de un dia para otro si usted tiene su propio 

numero de cuenta para envios

en alguno de estos medios: FED-EX, Airborne, UPS,
Obtenga una copia rapido por correspondencia de prioridad……Por el precio de $18.50 Con porte pagado (Tambien enviamos algunas ordenes al extranjero por este precio, solamente por correspondencia ordinaria.
Obtenga su copia igualmente rapido por aire (UPS) Por el precio de $28.50 dolares, en el extranjero.   $24.00 dolares.
VISCO-ELASTIC GREEN GLUE ADHESIVE REVOLUTIONIZES SOUNDPROOFING!
Our green glue vs that other runny thin stuff!  (Better called "Green Glop!".)
While it's not a soundproofing paint, it's even better!  (Yes, we Do have a soundproofing paint)!
We were the first Western Region distributors for GREEN GLUE! We stock massive quantities of it and sell it in odd lots (Tubes) so you don't have to buy more than you need!
For existing walls, just apply Green Glue to some new sheets of drywall and stick it up on the wall, fasten in a few places, tape off and paint or wallpaper! For bare studding or ceiling joists, for double drywalling, use MLV.  Apply padding tape to the studs before hanging the sheets for even more enhanced sound control! Easy to use, for small jobs it comes in caulk-type 29 oz. tubes or in buckets for large jobs.  A case of 12 covers about 190 Sq. Ft.  (A wall 24′ long and 8′ high).  Dollar for dollar delivered, the best value in soundproofing products!
Priced too low to show here!  Call for best price.
The Ultimate in a Sound Damping Coating!Almost like a soundproofing sound deadening paint!  (See the Video!)
Use this acoustic treatment to block and dampen sound!
Super Soundproofing Co™, (San Marcos, Ca.) master distributors, is introducing Noxudol 3101, a patented water-based soundproofing sound insulation and deadening compound. Along with being water-based, it absorbs noise and vibration, is sprayable, nontoxic, dries hard. It works really well for damping resonance in aluminum, steel, fiberglass and poly-glass. It is nonabrasive, anti-corrosive, protects against condensation and is ideal for automotive, industrial and railway applications.  Plus – the flame-retardant properties are awesome!
While not a sound proofing paint, it's pretty close!  (It's thicker, but can be sprayed). For sound barrier, use MLV.
Sound deadening with Noxudol 3101

Reference object – Djupviks ShipyardBefore: Usually, they glued 1,5 mm aluminium plate with 1 mm glue on the inside of the hull. This required 1 working hour per sqm. All the aluminium plates had to be cut to the exactly right size. The weight per sqm was 5 kg.Today: All vertical places, which need sound damping, included the frame ribs, are treated with Noxudol 3101. Up to 5 kg/sqm can be applied without exceeding the cost for the material of the old system. However, Noxudol 3100€™s unique sound damping properties and the possibility to treat 100 % of all vertical surfaces and frame ribs, reduce the requirement of material to about 2 kg/sqm (about 3 litre/sqm wet material). They apply up to 3 kg/sqm on surfaces where extra sound damping is required.

Result:
– Less working hour to sound damping one sqm. Up to 80% reduction.
– Reduced material cost.
– Less weight. Up to 50% reduction.
– Environmentally harmless product.
– Contains no solvent or other dangerous materials.
– Better sound damping results.
Certifications

– Lloyd Certificate of Fire Approval
– Bureau Veritas Certificate of Type Approval
– Smoke generation 3101 ISO 5659-2 (1994)
– Spread of flame 3101 IMO Resolution A.653(16)
– Noxudol 3101 F1 Class
– Noxudol 3101 M1 Class
– DIN 54837 Adtranz Nox 3100
– Burning rate 3100 Volvo STD 5031,1

Notes on application:  To obtain proper results of sound deadening, the material needs to be built up on the surface it is applied to, with a number of coats, drying somewhat between coats, (It dries quickly),  increasing the thickness to 3/16th to 1/4″.  It can be sprayed with our special sound control spraygun!

Not available in spray cans.

It will dry hard and firm with a beige color.
How to use Soundproofing Paint!

Use for autobody sound control and undercoating.  Pickup bed coating!  Computer side panels. Reduce noise in washing machines or dryers by painting the back sides.  Soundproofing built-in light or recessed  fixtures.
Noxudol 999:   Aircraft firewalls and engine mounts! (See this Video!  It increases the resistance to fire of in-flight conditions). Paint your plywood shear walls.
Technical data for noxudol 3101 More Videos on this Product!
GET INFO ON INTERIOR WINDOWS!
Interior windows are fitted to the inside frame of your existing windows and held in place with magnets, providing excellent sound reduction.  Please give us some info on how to contact you about how the windows are fitted and to discuss your needs.  Indicate if you feel competent to measure them and install them or need someone to come out and do it. It's best to have one of our experts call you.  (We pay for the call that way!).