Archive for the 'How To Do It' Category
Super Soundproofing™ Anti-Vibration Isolation Pads
Two types of sound are usually caused by machinery: Airborne sound and Vibration sound.
Soundproofing by vibration isolation:
Used for commercial sound and vibration isolation of machinery.
Some of our pads are high quality elastomeric ribbed neoprene, specially compounded to resist aging, compression set, water and oil. They are constructed with alternate rib heights, cross-ribbed, with a cork center for additional sound isolation. Durometer of these pads is 60 on the "A" scale. (The best).
Maximum loading capacity of each cork center pad: 50 pounds per square inch. Pads may be stacked for increased isolation and capacity. ( A 2″ pad will support 200 lbs).
Pick the size pad for the bearing weight, not the size of the footing! 3″ pads are best for 2X4 sills for wall studding, etc. Put under the studs or space about 2-3 feet apart under the sill depending on wall load. Use the 2″ X 3/8″ pads neoprene without cork as support for your drywall panels edge. Cork center Pads are all approx. 7/8″ thick.
Use rubber furniture cups to keep vibrating, walking, active machinery (like washing machines), on them. Sometimes some construction adhesive, like "Liquid Nails" or "GOOP" is helpful. Need softer pads? See first item below.
SPECIAL: Not available anywhere else:
2″ Soft Pads: $.99 Ea. A soft pad using a combination of foam and MLV. for delicate machinery like turntables, printers, etc. Use for sewing machines, too. (Use 2 stacked for each bearing support for heavy machines).
Pads in stock:2″ X 3/8″ thick ribbed neoprene pads: $1.00 Ea. w/o cork center.
18″ Sq. Pads $32.50 Ea. Ribbed Neoprene (W/O cork).
2″ wide by 18″ long strips: $18.00 (All prices are plus shipping!)
2″ Pads: $1.50 Ea. Cork center
3″ Pads: $3.00 Ea. Cork center
4″ Pads $6.00 Ea Cork center
6″ Pads $9.00 Ea Cork center
12″ Pads $18.00 Ea Cork center
18″ Sq. Pads $38.50 Ea. Cork Center
2″ wide by 18″ long strips: $18.00 (All prices are plus shipping!)
If your exercise machine is very noisy, creating airborne sound like a Fitdesk, or the floor doesn't have much sound reduction, use a MLV sound barrier: "Floormat" (use the 4'6″ width with foam backing-long enough to go past the ends of your machine a foot or two!). This may be needed in addition to vibration pads.
Large machines such as the new Fitdesk or fluid trainers like Kurt Kinetic may need a floating floor made from panels like these:   
Anti-vibration motor/pump mount.  Taped.
Use these small "Dimple Pads" pads under each corner for a Treadmill or other exercise machine      
Great for washers/dryers too! (Not for top loaders!)
Each…………………………………..$4.99
Set of 4 pads……………………….$19.95
You can cut pads to make different sizes or to double them up for heavier machines. These pads are to be rotated/repositioned to account for wear over time.
Don't forget the sound isolation tape– it does a good job of padding DWFC, sheetrock wall paneling from studs and sub-floor panels from joists! It can also be used effectively as vibration damping tape for many other purposes.
Other:  Speaker Hangers.
For more anti-vibration solutions, see also the page on soundproofing appliances!


Super Soundproofing™ "HOOD LINER" is Great!
By popular demand, we make it easily available and with vast improvements.
WHY? The biggest problem with a car or truck noise reduction is that sound is coming right up through the hood- then through the windshield. (Because glass is almost transparent to sound!) Car engine noise mixed with road noise blows right through into the passenger compartment. Auto generated sound is mostly low frequency, the hardest sound to block or absorb.
WHAT IT IS: A closed cell expanded vinyl-nitrile foam in the form of a mat, one side smooth for applying an adhesive. You can use a spray-on or contact cement. (Or our "Peel-N-Stick")  Very durable. Effective to over 225 F.  Won't burn either.
PURPOSE: Used as a hood liner- sound barrier/absorber for soundproofing the car engine compartments of cars and trucks, it is also useful for boats, (won't absorb moisture) and RV's in their generator compartments.
INSTALLATION: For auto/truck car engine hoods, remove the hood, (mark your bolt mountings) remove/discard all the old insulation. Use the thickest mat possible. (2″)  Plan to trim it to clear obstructions when the hood closes. Place hood on a worktable with the underside up. Clean the metal thoroughly and carefully cut your mat to fit, then apply the adhesive to both material and hood. Apply and press down well. If mechanical fasteners were used on the original material, reuse them if possible. It won't hurt to use some sheet metal screws, large area washers or upholstery snaps to help retain the mat over time. Trimming can be done with an electric "Turkey Carving" knife or sharp razor knife. Trim to fit around the air cleaner, etc. Can be used on engine side of the firewall too.
Cut mat into panels and cement into the car body.
SIZE:  Standard mat is 1″ thick. It comes as a 48″ X 48″ panel and is shipped by post or UPS in a roll. Or you can buy lengths cut from roll material.
This kind of mat is also useful for reducing "rumble"  transmitted from the trunk to the passenger compartment.
You can use any thickness of "Super Soundproofing™ Mat" and stick it together with contact cement if the above thickness is not right for your project.
Vibration damping pads work by changing the ringing frequency (deadening) of the metal panels to which they are attached.
Professional car restorers use Soundproofing Liquid for application on metal surfaces such as trunk areas where reverberation is a problem in high end sound installations! 2-3 gallons will provide several buildup coats to the entire floor area of a vehicle, greatly reducing road noise!
Get the free booklet: "How to Soundproof Light Aircraft"! Info applicable to boats and cars, too.
SHOWN:  Car engine hood removed from Dodge Caravan with factory "crap mat" removed and cleaned for installation of  "Super Soundproofing™" 2″ thick closed cell vinyl nitrile mat.
| | |
| --- | --- |
| | This kind of mat is also useful for reducing "rumble" |
| | |
| | Transmitted from the trunk to the passenger compartment. |
Second method- (Takes more time and material, but esthetically worth it).
This requires four layers of ¼":
The first one covering only the  8 small triangles of the hood,
The second one on top of the first one covering the 4 big triangles,
The third layer on top of the previous two layers covering the right half and left half of the hood,
The last one covering everything and it is the only one you can see in the picture.
Best to lay out and cut the last  layer (one piece) that covers the entire inside of the hood first, then use the remaining material to cut the small pieces as shown.
Don't buy the material that has  PSA,  (Pressure Sensitive Adhesive), use 3-M High Temp contact cement instead.   The material that was used in the above project was 12 Lineal feet long (4′ wide).
You can call us if you need help! 1- 760-752-3030 9-5 Pacific time 5 days. Or use the box below!

SOUNDPROOFING A BASEMENT FOR FUN AND PROFIT!
Basements have been found to be havens and useful spaces for added living.  Here we'll explore the issues in converting this relatively useless space to important use.  This is not only about soundproofing, which is important for reducing fun annoyance, (rec room, home theater) in adjacent areas, but for privacy, above and below, especially if the space is to be used for everyday living by family or rented out.  We don't get into the details of sound proofing these specific items.  There are other pages here giving full detailed noise control info.  Just click on the links.
Scope of soundproofing work.
Essential areas at issue:
Floor
Ceiling
Walls
Windows
Doors
Heating- Air conditioning
Furnace
Aircon (Heat pump)
Ducting
Electrical – Plumbing
Floor:  Little needs to be done to the floor if a standard concrete slab is involved, except consideration given to the cold and damp that may come from it.
Ceiling:  Usually the ceiling in a basement is bare rafters and if left that way, substantial sound will transmit through it in both ways, up and down.  A ceiling must be in place to have any kind of soundproofing.  Not a drop ceiling, with is virtually worthless for sound control.  What kind of ceiling depends on the noise transfer that is anticipated. If it's just airborne sounds like people talking, above and below, a simple soundproof ceiling made of of 5/8" "Fire code" Drywall may suffice, with sound isolation tape on the bottom of the joists, depending on what the floor topping is above.
If its carpet and pad, it's far better than tile/ wood or laminate flooring, as these hard surfaces make the floor above almost invisible to sound waves.  Even so, a layer of sound barrier material called MLV (Mass Loaded Vinyl) is recommended in case your floor ceiling doesn't have much sound blocking capability.
In the event it's people walking, sound transmitted is down below, (Impact sounds), the vibrational sound, much like electricity, must have its path blocked.  This can be done with "Sound Clips" a rubber grommet device
that attaches to the bottom of floor joists and mounts metal rails for the new drywall ceiling.  Resilient channel, a 1970's system, it not used anymore except by unknowledgeable contractors.  But if you must use it, it's here.
Walls:  The walls will not be much of a soundproofing problem if the basement is deep enough where the walls are buried outside.  Finish of the walls can be easily done by imitation wood paneling, etc.
If, like many basements, the outside ground level does not completely cover the wall, leaving space for basement windows, the soundproofing issue will be the sound coming in or going out the windows and perhaps the wall now left, which may not have much sound blocking ability. In that case a double layer of drywall and a layer of MLV should suffice unless there is a loud source of sound nearby.   If so, add a layer of "Green Glue" to the sound proofing equation.
Windows: Unless light is needed, it's may be simpler to wall them off to prevent sound in or out.  If light is needed a secondary window can be simply added over the window opening as shown here. 
Doors:  Many basements have at least one doorway, maybe more for ingress/egress. It's best to put in doors, not only for sound control but for privacy.  Use the thickest MDF (Medium Density Fiberboard) doors for this as MDF has superior sound blocking and are cheaper than wood or steel faced doors anyway. For what we know about soundproofing doors, go here: Details.
Heating- Air conditioning: Usually there's this appliance in the basement feeding heat and/or cool air throughout the house with ducting.  This unit must be walled off into it's own room with a door to keep it quiet enough to live with and the ducting feeding to the rooms above in the spaces in the ceiling must be walled off. If they are square metal or round flex plastic ducts, use foam mat first then box them in with drywall.  This is to prevent sounds from the rest of the house from coming in (down) and sounds from the basement from going up to the upstairs room vents.
If you are planning to use a window or through the wall aircon, be aware they are internally open to the outside and will pass sound easily.  If you must use one, consider placing it where a noise source is not nearby.
Electrical – Plumbing:  Some want to make accessibility panels in their ceiling to have "access in case of an emergency".  Best advice is to avoid this idea as it will not be needed in an emergency.  The leak, etc will be quickly evident and you'll be accessing it through the damaged ceiling.  Just make sure the wiring and plumbing is in good condition before closing up the ceiling.
A provision for lighting must be made and the rule is to not cut holes in your noise control ceiling to accommodate it.  "Can" lights are out as well as recessed fluorescents.  A better choice is indirect lighting or low profile tube fluorescents. If you must use Can lights, etc, forget about the soundproofing as there won't be any.
You can use ceiling fans as long as they are mounted to the bottom of the joists and not the ceiling.  Caulk the through the ceiling holes for them with acoustical caulk.
If there are any noise control issues with the plumbing, (water gurgling, toilet flushing), now would be time to cover the offending piping with pipe insulation to quiet them down.  If you do your laundry here, put a protective drain pan under the washer to prevent major damage to your living space if it overflows (Same with the water heater).  If possible drain the pan to a floor drain.
How to do it all?  Best way is to be your own contractor, as most contractors don't know much about it anyway.  We have a list of some who do, inquire. You can hire "Can do" kind of guys or handymen or you and your friends can do it.  The key is to not make the mistakes of the unknowledgeable.  That's where we come in, to answer your questions and advise.  See also: (How to select).
If you are planning use this space for music practice see here for additional soundproofing info.
You can take a tour of a basement soundproofing project here.
Questions?  Use the box below for a rapid reply!  Talk to us about your project.
10 Questions to ask before the purchase!  (For apartments, substitute "apartments" for "Condos")!
Many people who were living in single family homes are surprised and shocked to discover they now share a wall with their  noisy condo neighbor. Of course when the purchase is complete and one moves in, it's far too late to do anything about it except to bite the bullet and live with it or investigate what options are available to mitigate the noise after the fact.
We here at the Super Soundproofing Company™ have helped many of these hapless buyers and can help you too, maybe by preventing obvious mistakes before the purchase and even after..
If you're one of the few buyers studying up on the purchase of a condo, join the ranks of the fortunate that are armed with knowing the questions to ask before the purchase. You'd need to talk with the Seller and/or the Condo Association/Property Manager.
1)  What kind of soundproofing was installed when the unit was constructed and when? (This will tell you the codes in effect at the  time, and if any).
2)  How effective is it? What STC and or IIC are maintained? (STC is airborne sound, people talking) (IIC is impact noise, people  walking)
3)  What can you tell me about my neighbors to be, left, right, above and below? (You'd want to know if they play the piano, etc).
4)  How many noise complaints have you had? (If they don't answer correctly, you may have a legal Cause of Action later, if needed).
5)  Ever received attorney letters about the noise? (See #4 above).
6)  What was the prevailing Noise Level Code this condo was built to, and when?
7)  Are there any tenants with state supported rent? (Sometimes the parties never stop!)
8)  Can I bring my sleeping bag and spend a night and day there? (This doesn't always work as it has happened the seller gave a paid vacation to noisy neighbors to go away so the condo could be sold!)
9)  Whats the policy for installing wood floors, etc?
10)  Ask "Anything I should know before I buy"?
You'd need to know the kinds of soundproofing employed while the building was under construction in the case of
A)  Concrete walls, floors or
B)  Double framed walls with sound proofing insulation.
The level of sound control of the condo would have been established at the time of construction, so it's important to know what it is. That level will determine if it's sufficient or not for your living enjoyment. If not, you'd be faced with expensive retrofit of sound panels or even have to demo out walls and ceiling to do a major remodel.
A quick determination for the sound levels in the condo can be done by using your ears as a tuning meter. The human ear is quite sensitive to not only the direction of the incoming sound, but also the level.
For instance, listening carefully at the wall, (a few inches away), then the window will give a relative reading of the traffic noise entering the room. Your cell phone playing music will allow you to get a reading of the sound transfer through a common wall. Many times these walls are all constructed the same in a condo building; it may very well be they will be the same for adjoining rooms of the next door neighbor. So, if you hear noise well through your walls, so will you hear it well through his walls, too. (And he'll here you too!)
Even if you find there was "Soundproofing" in place from the time of construction it may have been insufficient considering the aging of the building and the inevitable traffic noise increase of the neighborhood in general.
Wall, floor, ceiling and window soundproofing is not cheap, though some ill-informed may refer to outmoded techniques from the 1970's.such as extra layers of drywall, cork, fiberglass batting, etc. as sufficient. Modern day costs to accomplish proper soundproofing may well run into the thousands and misguided efforts to save money may lead to unacceptable results.
* Walls:  Using a layer of MLV (Mass Loaded Vinyl) under another layer of Gypsum board will double the sound blocking of an existing wall.
* Floors:  As above, Using a layer of MLV (Mass Loaded Vinyl) under carpet and "Rebond" carpet pad will double the reduction of airborne sound. Using MLV with closed cell foam bonded to it will reduce both airborne sound (STC) and impact sound (IIC). This works well for laminate floors too.
* Ceilings:  If the floor above is not accessible, then the option is to demo out the ceiling and use "Sound Clips" to float a new ceiling of Gypsum board on "Hat" channel.
* Windows:  They are the most likely to be the cause of outside noise entering the condo. A window "plug" is easiest to use to block  incoming noise but will block light until removed. A "Secondary" window provides the same sound blocking as well as light and is easily removed for cleaning, air, etc..
Of course such costs vary drastically from state to state, city to city, but should be figured into the costs associated with buying a condo needing soundproofing.
Here are some approximate materials costs:
* Walls/ Floors: Basic MLV is about $1.50 per sq ft, the composite MLV and foam about $3.60 per sq ft. Other products may be needed.
* Ceilings: Sound Clip run about $5.40 each and you'll need one for every sq ft of area. "Hat" channel runs $4 for each 5' length. Plus locally obtained drywall.
* Windows: The 2" foam plug costs $8 per sq ft and the locally obtained clear plastic sheet for the Secondary window about the same plus the magnetic tape and angle for mounting is $3.50 per lineal foot (measured around the perimeter of the window frame).
See the shopping cart  For more detailed costs.
Many times such deficient housing is purchased by savvy investors who can get a good deal because of these sound control issues and then remedy them for a nice profit. But it takes careful consideration and a knowledgeable buyer to avoid getting burned.
Take a walking tour of soundproofing an apartment.
                             Thank you for your valuable time !!!
We Appreciate Your Interest in our product/services with Super Soundproofing Co. We will get back you as soon as possible.
if you have any question/comment regarding our site and services then feel free to contact us at (888) 942-7723  or Email us at sales@soundproofing.org
                                                              First Online Soundproofing Resource
                                                               Meanwhile you can reach us at 
AIR CONDITIONER SOUNDPROOFING
Things you may need:
Soundboard – (from the hardwood store)
Things you need to know:
There are several types of air conditioners, each presents different problems regarding quieting, but generally most have some things in common.
1) Older units are more noisy than newer units, mostly because they are near the end of their lives, while newer units are likely inherently quieter.
2) Compressors make more noise than fans and when near worn out can be very difficult to quiet down. Replacement is the only option.
3) Fan blades can make a lot of noise if coated with dirt through long use and can become imbalanced, causing bearings to go bad, adding to noise. Cleaning them can not only reduce sound, but add years to their lives.
4) Sometimes it's cheaper to replace a whole unit (even if it's not yours!) than it is to try to remodel against the noise.
Window Units:
These are difficult to quiet and many times it's not the noise of the unit that's the problem, it's the noise that comes in when it's OFF, because the air flows right through it from outside in and so does the sound of traffic, etc.
If you removed the front vent panel and filter, you can see outside! Therefore, sound has an unimpeded path into the room. Such a condition can be helped by a shield fitted to the outside of the unit, thereby making the airflow and the sound take a right angle path into the air intake of the aircon. Lining the shield with sound absorbing closed cell foam will really help reduce sound coming in. Your local sheet metal shop can make one for you if you give them the dimensions of the unit it to which it is to be fitted.
Pad mounted (Outside) Units:
These types move a lot of air and are usually pretty noisy, even when new. They tend to be large, because they cool (and sometimes heat) large areas. Because the sounds from them are loud and varied, (A combination of compressor and integral fan noise, as well as vibration), trying to soundproof them directly with material on them is usually fruitless and some sort of barrier/fence must be set up.
If it is a roof mounted assembly, make sure there are adequate vibration pads under it to help reduce vibration transmitted into the roof. A noise barrier made of MLV can help reduce noise created and going down through the roof. If mounted on a concrete pad there will not be this kind of problem.
Determine direction of the soundpath that is causing the problem and plan a fence barrier between it and the target of the sound. (A bedroom window, for instance). Build a fence (no gaps in the slats!), at least 8′ high and 6′ wide that goes all the way to the ground as close to the unit as practical and line it with sound absorbent closed cell foam. 1″ thick is a good choice. If the soundpath is angling upwards, add a overhang to your fence to help block the path. If there is more than one soundpath, a fence in the shape of a "V" or even 3 sided like a "U" may be necessary. In some cases a boxed in area may be needed, complete with a roof to contain the sound. Access doors and ventilation will have to be planned for this type of solution. Some hints on how to baffle a noise source is here.
Attic Fans and Air Conditioners:
Some times it's necessary to "Hang" these units from vibration mounts rather than set them on pads to reduce vibration to an acceptable level. When belts are used to drive the fans, problems can arise due to wear and aging of the assemblies and bearing blocks. Units that are comparatively quiet can become very annoying over time as loose parts begin to sound off. Usually it's necessary to add sound barrier and vibration absorbing mat around the installation to reduce sound transfer into the structure of the building. This is best done at initial installation rather than later when it will be much more difficult.
Ducts/ducting and air vents.
Ducting needs to be covered with closed cell sound absorbing foam (not open cell foam), for sound and thermal insulation. Metal ducting needs to be physically isolated from the fan shroud or aircon unit with a flexible coupling. Otherwise is will re-radiate sound vibration along it's length. Fiberglass or flexible ducting usually won't have this problem, but will lose thermally if not insulated.
Liquid soundproofing can be painted/sprayed on or in the metal ducting for even more sound vibration reduction.
Vents are a problem if the design causes an air noise. To see if this is a problem, temporarily remove one to see if the sound level drops appreciably.
Watch for vents to rooms that have a single common feed up through the wall- (or down through the floor to the ceiling below), if you can peer though the vent into the other side, it means sounds in one room will transfer to the other room.
If you are buying an AirCon, don't just take the sound ratings the dealer may give for quietness- find out where the different brands/models are installed and go check them out- you will definitely be glad you did!
Super Soundproofing™'s Privacy Notice

Effective 07/03/2012
Privacy Notice Contents:
Your privacy is important to us. To better protect your privacy we provide this notice explaining our online information practices and the choices you can make about the way your information is collected and used. To make this notice easy to find, we make it available not only on our homepage, but most every page and at every point where personally identifiable information may be requested.
The Information We Collect:

This notice applies to all information collected or submitted on the Super Soundproofing Co™. website. On some pages, you can order products, make requests, and register to receive materials. Some types of personal information collected at these pages are:
Name
Address
Email address
Phone number
Credit/Debit Card Information
(etc.)
On some pages, you can submit information about other people. For example, if you order a gift online and want it sent directly to the recipient, you will need to submit the recipient's address. In this circumstance, the types of personal information collected are:
Name
Address
Phone Number
(etc.)
The Way We Use Information:

We use the information you provide about yourself when placing an order only to complete that order. We do not share this information with outside parties except to the extent necessary to complete that order.
We use the information you provide about someone else when placing an order only to ship the product and to confirm delivery. We do not share this information with outside parties except to the extent necessary to complete that order.
We offer gift-cards by which you can personalize a product you order for another person. Information you provide to us to create a gift-card is only used for that purpose, and it is only disclosed to the person receiving the gift.
We use return email addresses to answer the email we receive. Such addresses are not used for any other purpose and are not shared with outside parties.
We use non-identifying and aggregate information to better design our website and to share with advertisers. For example, we may tell an advertiser that X number of individuals visited a certain area on our website, or that Y number of men and Z number of women filled out our registration form, but we would not disclose anything that could be used to identify those individuals.
Finally, we would never use or share the personally identifiable information provided to us online in ways unrelated to the ones described above without also providing you an opportunity to opt-out or otherwise prohibit such unrelated uses.
Our Commitment To Data Security
To prevent unauthorized access, maintain data accuracy and ensure the correct use of information, we have put in place appropriate physical, electronic, and managerial procedures to safeguard and secure the information we collect online and to protect against hackers.  We do not keep credit cards numbers- they are destroyed at the time of use.
Our Commitment To Children's Privacy:
Protecting the privacy of the very young is especially important. For that reason, we never collect or maintain information at our website from those we actually know are under 13  and no part of our website is structured to attract anyone under 13.
How You Can Access Or Correct Your Information
You can access all your personally identifiable information that we collect online and maintain at our credit card processors website.  We use this procedure to better safeguard your information.
You can correct factual errors in your personally identifiable information by sending us a request that credibly shows error.
To protect your privacy and security, we will also take reasonable steps to verify your identity before granting access or making corrections.
How To Contact Us
Should you have other questions or concerns about these privacy policies, please call us at 760-752-3030 9-5 Pacific time or send us an email. Or visit us!
BBB Privacy Tips!
How to select soundproofing suppliers!
When we put up this website in 1998, we were the only company specializing in sound control materials, even though there were several companies selling professional sound studio acoustical materials.
These established companies, observing our success over the years, began adding sound control sections to their websites to take advantage of the growing awareness of noise pollution by homeowners and the general public.  They began to actually talk sound control with customers, breaking their long standing rules of only dealing with noise control professionals.  Unfortunately, much of the info they give is couched in specialized, engineering terms and may not be very practical in the field. Do you really care about "Sabins", "NRC" and "IIC" terms?
Recently, there has been a explosion of companies wishing to "cash in" on the soundproofing phenomenon and have studied ours and other websites and now try to "talk the talk" by selling the same or similar materials.  Some have even copied the information from our website virtually word-for-word!  (Even with our spelling errors!).
Because they have very little in the way of costly overhead, (working from apartments, garages or cheap offices), they try to sell product for a few pennies cheaper than established reliable companies.  This article is to help the user try to differentiate between their hype and the real tested resources of practical sound control advisors and reliable suppliers.
Points to consider before buying sound control materials from ANYONE! (This applies to dealing with contractors, too!)
Are they established and reliable?  (Or just out for a quick profit?) You can tell if they don't answer their "Office"  phone and ask you to leave a call-back number.
Do they just simply agree with your plan or idea and not offer constructive alternatives or criticism to make sure you get the proper materials and install it correctly?
Will they just sell you whatever kind of material you want without any kind of comment as to whether it will do the job?
Are their "Technical Experts" commission salesmen?
Do they hype their material, offering glowing testimonials?
Do they offer to guarantee results, but have onerous return policies? (Tell you anything to make the sale).
Do they actually STOCK material or are they just "Drop Shippers"?
Are they a VERIFIED member of the Better Business Bureau?  (BBS symbols must be clickable).
Do they have a outstanding privacy policy?  (Some don't even have one or a "canned" one forced on them by a web hosting service! Or don't even know what it means!) Is it hidden? Is the type big enough to read?  Does it actually offer privacy?
Do they have phony "Trust" and "Award" emblems on their site that do not work for verification?  (Not clickable, or send you around their own site).
Do they wildly extol their own wonderful virtues of integrity and conscientiousness to allay your fears? (To make a sale, they'll even tell you they are devout Christians and call you "Brother"!)
Do they give themselves impressive meaningless titles, such as "Soundproofing Director" or "Sound Conditioning Expert"?
Do they make ridiculous claims as to their qualifications?  (One of our former employees was asked some questions about sound control by a newspaper, who then mentioned our company and his name in a general article.  He quit and started his own business around the corner from us in competition with us, calling himself the "Doctor of Soundproofing, ADVISOR to the New York Times"! (And several other newspapers who carried the article about us).
Do they knock their competitors with sincere sounding criticism of them or their products "for the protection of the public"?
Do they offer products with characteristics that cannot meet specifications?  (For instance: "Rubber Expanded Foam"- FAA Approved for Aircraft). Or "Closed Cell Foam" (Just cheap ineffective neoprene).
Do they offer cheap products that sound and seem the same as other sound control products but are not?  (Neoprene: "Same as mass loaded vinyl").
Do they offer products with low quoted prices on the site, but wildly differ when the order  is placed?
Do they hit you with exorbitant shipping and handling charges?
Do they offer low prices and then hit you with a "Order Processing Fee"?  (This fee is proportional to how bad you want it!).
Do they try to add a charge for using a credit card instead of a money order?  Or give you a discount for cash. because they can't qualify for a credit card merchant account and thusly a shopping cart?  (Or use some other persons merchants account).
Will they  give you specifications of  their products and the Materials Safety Data sheets (MSDS)?
Will they sell you flammable packing material or mattress foam as acoustic products?
Do they give you copies of their own approvals and lab burn tests? Or "Computer Generated"?  (Or fake copies of ours?)
Do they meet shipping deadlines or do you have to keep calling?
Will they cheerfully accept back your unused product for credit?
Will you have to worry that you'll not even receive your order, nor your money back?  (Or the correct materials for the job).
If you have problems will they help you or your installer or just blow you off?
Will you have to contact us after buying from them to find out where you went wrong?
We offer free, informed, practical and impartial advice.  While some people have taken our time, information and detailed instructions and shopped elsewhere for materials, they are in the minority.  (Probably it was these competitors calling us for help!  We are the ones they turn to!)
If you like what we do and the way we do it, please patronize us and become one of our many loyal customers!  (You won't be sorry!)
Some would say you'd have to be nuts to deal with anyone but us!
Dealing with someone else?  Make sure you haven't been "Doctored"!  Call us for a second opinion!
Careful attention to certain details (not mentioned on the site), could mean the difference between success and failure of your sound reduction project!  (You'll get these vital details when you become our customer!)
If you find a lower price somewhere else- Beware! There's a reason!
Tip! Check their Delivered Price!
Since we ship in large volume, we get a far better shipping rate from our freight companies than others and pass that along to you!
We can ship from our bonded warehouses near you, saving you big money!
Beware of this offer: "XXXX stocks the largest selection of products in strategic locations across the country. You benefit from lower shipping costs knowing we will source your order from the best location possible".
(Means they drop ship, pay with a credit card to the supplier and stock nothing).
Sound Blocking EAR MUFFS, HEADSETS & SOUNDPROOFING HEARING PROTECTION
While noise keeping you awake may seem to be a simple problem, the solutions are not simple!
Sleeping with headsets? You bet! Want to block traffic noise or reduce your partners snoring?  
Sound Blocking Totally Guaranteed!
Need help getting to sleep, or sleeping?
Some of this may be hard to believe:
Why don't earplugs alone work well?  Earplugs don't cover the mastoid bone behind your ear as well as headsets do.  That's also why "Lightweight" or cheap smaller headsets don't work well.  We've been asked: "What if I wear both"?  The answer is that while there will be some improvement over headsets alone, it will not be very great, but really well worth it.  We give you a free set of earplugs with each headset and you can get more from your local drugstore, if need be.
Most of these professional units we sell have a special liquid ear seal for maximum noise reduction and are made with premium components for long life.
Fitting Instructions:
Pull the cups outward and position so that the cushions fully enclose the ears and seal tightly against the head.
Adjust the height of each cup equally on both sides while holding headband on crown of head creating a snug and comfortable fit.
Proper Fit:  With ear muffs over both ears while in a noisy environment, place the palms of your hands on both cups and push cushions towards head.  If there is a perceptible difference in the noise level, ear muffs are probably not fitted properly.
The headband will take a set.  If proper fit is not obtained, repeat fitting instructions.  ie:  if they are too tight, spread them out – too loose, compress the headband.
Notice:  Noise reduction is adversely affected by anything that impairs the seal of the ear muff cushions,  like hair, glasses, earpiece cords, etc. Yes, soundblocking headsets (ear muffs),  really work and here's what we've  learned about sleeping with them and some suggestions.
Use the type that's adjustable, usually the headband that goes around the back of the neck or under the chin is best for sleeping. Then, find a quiet place to put on the headset and stay there a few minutes first to accustom your hearing level to the quiet, otherwise your body may "turn up your ear volume" trying to make up for the unaccustomed quietness.   The bathroom works good for this. Then put on the headset.
Two pillows may be needed to block your head/headset properly when lying in bed. Very soft "malleable" pillows, not rubberery are best. If you can find a "horseshoe" pillow, it may help to position the headset better.
Wearing headsets throughout the night may not work for some people.  Use them to get to get to sleep and pull them off later if they become uncomfortable.  Keep them handy (always put them in the same place to avoid searching in your bed for them!) if you need to put them back on.
TIPS:   If the headset headband is too tight, loosen by spreading out by hand.  If too loose, tighten by clamping head banding together. Make sure your hair doesn't interfere with the earmuff seal.  If you wish to wear an earpiece to listen to the radio, etc, use a flat cord not a round one so as to not interfere with the seal. Wearing these at night takes some "getting used to".  Give them the old college try.  If you can make them work (as hundreds here have done), you can save yourself untold aggravation, expense, etc!
We now have reusable earplugs on cords to help in not losing them at night Inquire!
Totally Guaranteed! Because not everyone may be able to use them, we waive our normal 25% restocking charge if you wish return them.  (Shipping not refundable). You're not stuck!
But Wait!  There's more: SPECIAL OFFER-  FREE EARPLUGS with EACH HEADSET!
Regular industrial hearing protection ear muffs don't attenuate the voice range by much- because speech communication is important for safety in industrial conditions.  (Like- "Hey, BOB, WATCH OUT!)  For sleep and ordinary noise reduction, this is a real disadvantage.  Since we can't modify them, we provide you with special noise reduction pads that fit inside the ear cups to increase the attenuation and widen the speech blocking range and a set of earplugs.
If you decide to return the earmuffs, the sound blocking earplugs are yours to keep.
See all our headset/earmuffs with pictures.    Pix/color may change due to availability and product upgrades.
Comfort Rating: Almost the BEST! Low Profile and foldable for travel. Ear cups are specially designed to fit each ear. The NRR in DB is 25, with specially enhanced pads and earplugs to perform even better. Available in Gray with black head band.only Lightweight- only 8 OZ.   Only……….$24.95 With FREE EARPLUGS! In stock.

 Comfort Rating: Almost the BEST!The NRR in dB is 25, with specially enhanced pads to perform even better. ……….$29.95 With FREE EARPLUGS!  In stock.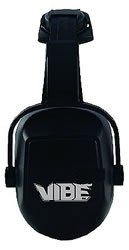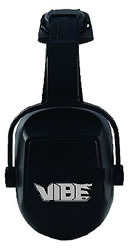 Comfort Rating: Very Good.  Live next to a train or truck station?  Special Low Frequency Ear Muffs block very loud, low frequency rumble sound such as emitted by engines, compressors, buses and heavy trucks. We took High Noise Reduction units and added Low Frequency noise enhancement.  Recommended for professionals exposed to such loud sounds that hearing damage could occur without serious protection. Liquid Filled – Black only.  Just $49.95   With FREE EARPLUGS! NRR: 29  In stock.
Comfort Rating: Pretty Comfortable- THE Ultimate Soundblocker! Civvy Version!   Built to Military Specifications, The same specs as those made to withstand loud duty on aircraft carrier flight decks – Civilian Version of Navy Mil Spec, Thick foam headband- low tension,  Individually adjustable ear cups with a NRR – 29 Average – Over Head -Wide
frequency reduction up to 37.4  Highest average sound blocking.
Just $59.95 With FREE EARPLUGS!  In stock.
Don't know which to order?  Order them all and test for the best one for you.  Return others in saleable condition – no restocking charge, (just pay for the shipping back and forth).  Keep the earplugs, just for trying!
Need a quiet room?  See our safe room description and our do-it-yourself  sound booth.
Snoring presents particular problems
Snoring presents particular problems because the sound is usually low frequency and quite loud and nearby. The low frequency headset would work best as well as some offsetting noise nearby, such as a fan or hiss like from between the stations on your FM radio.
Have a Noisy Place where Employees can't Hear the page system well?  All you would need is sound blocking headsets that play your music until your page comes on.  Call us to find out how!  760-752-3030